MacDonald & Owen Lumber Company
Justin Briski
Plant Manager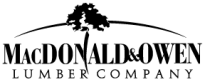 1900 Riley Road
Sparta, WI 54656
(800) 657-6990
www.hardwoodlumber.net
In January 2010, MacDonald & Owen Lumber Co. purchased a VisionTally for its yard in Sparta, WI. We have found VisionTally to be exceptionally accurate, providing value through all aspects of our business. We were skeptical during our initial analysis, looking for weak points within the technology and equipment and found none. We have been extremely happy with their responsiveness to supporting our needs. In either 2012 or 2013, we plan to install our second VisionTally at our facility in Brookville, PA. Currently in Brookville we have PictureTally; we prefer VisionTally for its accuracy and ease of use.
Areas of Value:
Accuracy – We have found the VisionTally accuracy to be superb! We never want to over invoice footage, while we also do not want to under invoice. We have experienced high value in verifying incoming lumber. There is no better way to increase your bottom line than to pay for ACTUAL footage received. We have found venders to under ship 300' – 500' per load. All this is done without opening vender packs and marking boards for length. Our venders even trust our tallies over their own, makes any claim easy – no more expensive travel!
Detailed Data – allows sales people to quickly access information while on the phone with the customer. No calling them back necessary! This aspect alone has closed sales deals. The ability to provide information quickly and accurately is almost immeasurable. Within a few clicks, we can access VisionTally scan information and email it to our customers.
Pack Splitting – we use this feature often. With today's economy and customers buying smaller quantities, we can quickly take a tallied pack and split that pack within the VisionTally software without re-scanning. In a matter of a few clicks, the new packs are created with the same accuracy. Time is money and only another way to increase your bottom line.
Durability – With time being valuable, there is basically zero preventative maintenance. Our system has been in place for over two years and we have done no preventative maintenance.
Support – We have found their computer support to be second to none. Having some computer background myself, I have been thoroughly impressed. Quick, accurate, and knowledgeable support has helped us resolve questions quickly.
In summary, VisionTally has exceeded our expectations and has proven to be an excellent investment for MacDonald & Owen.